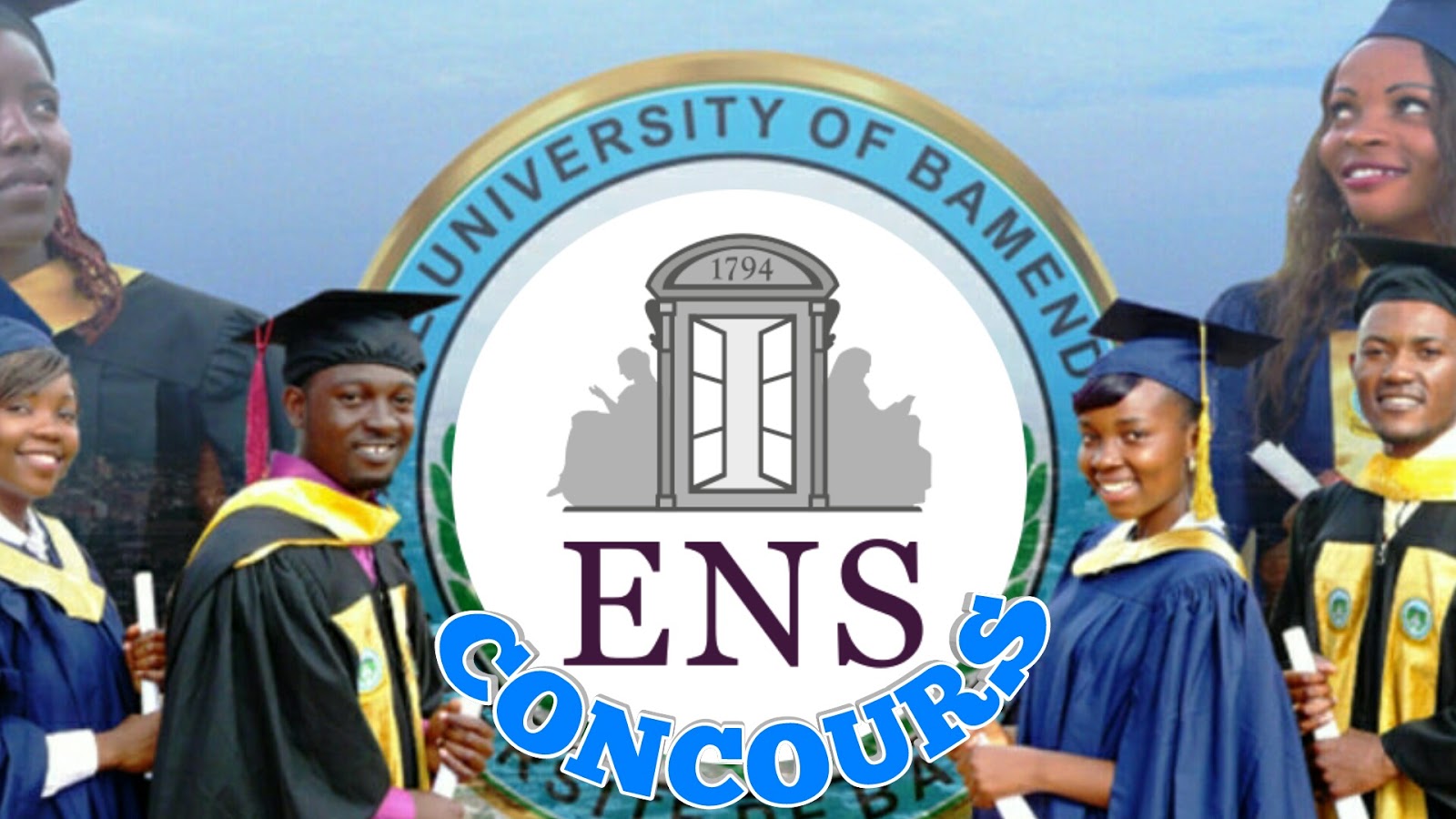 REPUBLIC OF CAMEROON
Peace – Work – Fatherland
PRESS RELEASE
To publish the results of the Competitive Entrance Examination in the First Year of the First Cycle of
the Higher Teacher Training College of The University of Bamenda in Bambili for
the 2018/2019 academic year.
Portant publication des résultats du concours d'entrée en Première année du Premier cycle de
l'École Normale Supérieure de l'Université de Bamenda à Bambili au titre de
l'année académique 2018/2019
The Minister of Higher Education hereby announces: 1
Subject to the presentation of the originals of the required diplomas, the candidates whose names appear below, ranked by discipline and by alphabetical order, have been adrnitted into the First Year of the First Cycle of the Higher Teacher Training College of The University of Bamenda in Bambili, for the 2018/2019 Academie Year. They are:
Le Ministre de l'Enseignement Supérieur communique:
Sont, sous réserve de la présentation des originaux des diplômes requis, déclarés définitivement admis en Première année du Premier cycle de l'École Normale Supérieure de l'Université de Bamenda à Bambili au titre de l'année académique 2018/2019, les candidats dont les noms suivent, classés par département et par ordre de mérite, Il s'agit de '
BILINGUAL LETTERS CHACC)

SN NAME OF CANDIDATE
1. NGUENANG CHENDOM CHRISTABELLE 2, W AND JI T ANKW A DARELLE CYNTHIA
3. TEMZI EDITH CELINE
4. NGUIMF ACK DONTSA ALAIN
5. LONGMENE NDANSI CONFIDENCE
6. CHIMEFI NGUEMALEU THERESE RAISA
7. LOMBO SANDRINE SORELLE
8. AMEZY-, BILLIETTE T ALAH
9. ANANGAFAC MA,YOLINE ACHALEKE
10. ATANGANA LORENZA

BILINGUAL LETTERS (GCE AIL)
SN NAME OF CANDIDATE
1. MUOFUO JOEL ABONGBAN
2. TEKOM MILDRED ACHA
3. TCHINDA KELLIE VICTOIRE
4. NDIMAH SALIN
5. RE NADA FRED VANESSA SIRRI ACHIRI
6. NGUM SHNEIDAR NENE
7. ALOMBAH GRACIOUS NDAHSE
8. TKU CAROLE NCHONG
9. DJEUKOA MANKA NICHIELLE
10. MEGOUO TA TEUKAM ARIANE DIVINE
WAITING LIST
1. HEUMEN DJEUFACK JOSELINE JOELLE
BIOLOGY
SN NAME OF CANDIDATE
1. NGOSONG DELISE TAZISONG
2. CLOVIS GHAKANYUY
3. DIME MELVIN AIME
4. NCHUKIE TANGOH
5. FUNYUI LEONIE KESANG
6. NGOCGAR MIRIANE BLANCHE
7. LANDO A URIANE
8. AKE LIONEL A WEH
9. TOUKO AKWO LESL y FRANKLIN
10. CAROL SCHNELL NGWASHA NGALAH
11. NCHOTU MANKABIH TERRY PASCALINE
12. NTEUBOU TEDONF ACK ALVINE RIT A
13. NUYEBGA LEONEL WATNKAM
14. A TSAGOU ROMEO DESTIN
15. CARA NGUUM MBANWI
16. DJA TSA ZEUF ACK JORANIE
17. KITTOH MAFOPA FANTA FRANCHE
18. MULUHKOH NOELA NGWI
19. NFORBEN MARK JUNIOR NGU
20. AMINCHAP VERON AKANA FONJU
WAITING LIST
1. CHRIST ABEL SIRRI
2. BUBOHAMADINETANGWE~
3. FONPOU PASCALINE
4. ATA DIANE FLORENCE
5. TSOBENG MANKENG EMERIQUE
CHEMISTRY

SN NAME OF CANDIDATE
1. KUNAH CYNTHIA BOBGA
2. TCHAKO BOUDJEKO EMMANUEL
3. TIKUM GENEVIE MINEME
4. DONGMO MELONGAN NICLANCHE
5. MUN A KINDNESS NCHIENG
6. DOUANLA TEDONG FABIOLA
7. A WA NOELA MBUH
8. ATSAFACK PUCHERINE
9. CHI KONZENEH CLARIS
10. MBAKOP KAMSI AUDREY CELESTE
11. TANGWA ODILIA MAFON
12. EVENGA CHARLES HERVE
13. AQUILLA NWENGUELLA
14. KIKWI FABRICE NSWI
15. WONEYIEH NOEL BONAFON
16. MBONGE NICOLE
17. TESSY LUM NDOHNYWE
18. MEH BEATRICE SIH
19. MBONG CHRISIAN LUMA
20. NTOHGWIACHO GOLDIAN
21. METUGE BLAISE EMEH
22. ESSOMBA BELINGA GREGOIRE THIERY
23. BISIH JOSEPHINE MA WO
24. EKENIZIA MARTIAL GYNEST
25. NTABU VIRGINIA KIEN
WAITING LIST
1. ESSOUNG MBESSA ADRIENNE
2. FOMEKONG LOPEZEU RODRIGUE ~
COMPUTER SCIENCE

SN NA ME OF CANDIDATE
1. SEMA NUBIA NYAMNDI JENNER
2. NGUFIH DONALD
3. BETAKEH KARLSON FONTONG
4. KEN HOPE NGWA
5. TUMMO FOTSO DENIS PATRICE
6. TANGA ROSINE ACHAH
7. BOUJIQUE LAH EVARISTE JOEL
8. NGEH ANNA BATINYUY
9. FRU BORIS NJI
10. BEUCHEH MAXIME BICHENYI
11. MEUY ANUI SOLANGE TAKU
12. FON ANSELM CHE
13. A TOCHWI CYRIE
14. LEONEL OTUN DJATIO FOMA
15. SAMO DORCAS GOKALE FESE
16. NDZE NDIAKE ABEMEKEZE
17. NGIRI NSAGHA JOEL
18. MUNJAM THOMAS TANGUH
19. EMMANUEL BERNARD FOMONYUY
20. ACHIMBOM GIDEON SHILOH CHIA WAITING LIST
1. NDONGKEH NELLY NAYAH
2. TCHAMI TCHAMI CLERT ANT JUNIOR
3. WIRSIY BERINYUY NIELEN
ECONOMICS

SN NAME OF CANDIDATE
1. EKUM BORIS EKUM
2. HWEDJI NOUBISSIE ALAIN JUNIOR
3. NTONIFOR CHIWETA BRANDON ALISIGWE
4. DJOUMENI HERMAN JUNIOR
5. AKELE TCHIOFFO BELINDA
6. NDAKANA ROLIEN SHINGHONG$
Page 4 of 10
7. BERLTINE FONDZEFEH AZENWI CHEFOR
8. NEH KEREN HAPPUCH NDOH
9. OTANG FOSTINE TIKA
10. ASEH ASHLEY PEARL NDEMAZEH
11. MAIRAMU SAUIBU
12. NDREMBOMENYI SABlA TU
13. MOFOR RANSOM AZINNI
14. ASSAH TALA EDWIGE LYDIE
15. NCHIZIE EMMANUEL NGWENUOH
WAITING LIST
1. TATA TANGWA JUNIOR
2. NKEGNEH BLANDINE TIEOW A

ENGLISH MODERN LETTERS

SN NAMES OF CANDIDATES
1. MEY ANUI MAURINE
2. JAMA SHARON ENJEI
3. AKENVI VINA ASOGHO
4. AWAN ANNABEL UNDUM
5. ANJOAMBUM MARONETTE
6. ETA ASHU ZIT ANY
7. MUKAH HYBRON MUNDI
8. TAKU MARIETTE EMAH
9 . NJINY AM STE VEN BILLE
. 10. MBANWI MIRABEL PEACE
11. GWAABE BONITA NAHJELA
12. TAFAH MABEL NGWENDONG
13. NDOFOA ZOFOA NATHALIE
14. AISHA ALBRIGHT F AMEN YI NYIAMBI
15. ATEH RAISSA NGHEM
16. KEMBOH FALONE AJISEH
17. AWAH QUEENIVA FRI
18. LES LIE WAA ANYAM
19. MELI DOUNGMO NIKITA LOUREL
20. DINGKAH WILLIAM MONTOH
W AITING LIST
1. AGHANHUH VICTORY NKOH
2. T AKOR SHARON MBIA Y A
3. EBONG DORETTE MESANG
4. NKWENDU SANDRA AWAH
5. MASHA GILLIAN NJINUI
FRENCH MODERN LETTERS

SN NAME OF CANDIDATE
1. CIAKE KOUA YE DERLAIN
2. MBOUM SABINE KAIT A
3. PITP ANIJOUOM IBRAHIM HAMED
4. MANFOUO FREDERIC DELANO
5. MESSOMO ETOUNDI THERESE VALERIE
6. FOTCHO MAFFO RAISSA
7. NGO HAMGA ADELINE CHRISTINE
8. SANOU CHENKAP L YNDA
9. DONGFACK DJOUMESSI JEANINE
10. MAHONDO NGUENDA ESTELLE
11. NGOUFACK CHRISTINE
12. MBEUNTCHA T ANKEU ISABELLE JUNIE
13. MBOUOMBOUO NDASSAH MOHAMED
14. ZAMO MVONDO LINA JANEL
15. MENGUE SERAPHINE CARINE
WAITING LIST
1. NDONI DAVID
GEOGRAPHY

SN NAME OF CANDIDATE
1. NJOMASOH MIL TON AMBE
2. AJONG COLLINS AKA
3. NCHOTU KENNETH AMBE
4. PRIS CILlA JENKAA BAYA
5. NZENDA DANY BLANCHE
6. CHAYI MARIYON SHIMENYI~
7. DIOM JACOB NGONG
8. OYEBOG RENE BINDA
9. TAHIRIR EPOSI LYONGA
10. COMFORT BIBANG TANUE
11. BONGA YEN VANISA RAMNYUY
12. MBAH SIBEL MBA YI
13. NDI CLOTILDA FUENDUM
14. FONKEING FONGUEN JEAN RODRIGUE
15. MEBIAME EZO 0 YANNICK FRANCK
WAITING LIST
1. AWAH BORIS NJI
2. EL BILOO JECKA
3. AKOA ONDOA STEVES GODEFROY
4. AMBE CONFIDENCE NJIWE
5. AWA NADESH NIZIER
6. NKEMNGIM PATIENCE YIMNAI
GEOLOGY

SN NAME OF CANDIDATE
1. CHEASAAHNGANGAKUMA
2. NJOLA LORA LIMNYUY
3. FIEN MONICA NGES
4. NGAMBOU MOULIOM NJIKAM MOUBARACK
5. IRENE KEMBIY AH FOWEH
6. CYNTHIA BIH MA TOY AH
7. BIH MIRRANDA FRU
8. T ANNI LEWIS PENN
9. KAFFE BRENDA NZAFI
10. HENRIETTA NGECHE
WAITING LIST
1. NCHOFOUNG DESMOND FONDANUI

HISTORY

SN NAME OF CANDIDATE
1. NDI ELIZABETH NA Y AH
2. ENONGENE JEANNE EBONGE
3. OZNGHEN FLORENTN ENGSA
4. AKO GRACE EBOB
5. MBORINGONG SUH KELMA
6. BETRAN BILLA TANGHAM
7. NEH SERAPHINE TSE
8. DOH YVETTE CLARISSE VAKENA
9. TEKE EMILIA EDAM
10. NYINGMAH CLLAUDETTEE GUMUH
11. DIANGHA LAUDRIC NCHOJI
12. NUYEBGA NJOMA GANYONGA
13. AKWEANUH NJEWEI ERNESTINE
14. NAHNDRE JIBRIL NDASHI
15. FAMENYI GOODLUCK BERNARD K

WAITING LIST
1. MUNAI CHANCELINE FARNYI
2. NDI MIRABEL ENJOH
3. FONKPU DEREK DZELAMONYUY
4. ZANGA ZANGA GINO DIDIER
5. NCHUMULUH ROLAND ALOMBAH
6. MEZOH YVETTE
MATHEMATICS
SN NAME OF CANDIDATE
1. AKOH RIT A ESAH
2. DEUTCHUE TIANI NELSON WILFRIED
3. NDATENUH JOVIAL FENGWI
4. NJOMOUO TANKOUA STACHYS
5. NTOSONGEH BORIS KINDA
6. ETOANDANGBLECKEKAABA
7. KENGNI JOSEPH ~
8. TANI PLACID BURINYUY
9. ANKINGHA PETRA KIMBENG
10. MBAHMUNDI JAMES NGU
t 1. NCHENDIA JOEL ABUNGABEOH
12. TUME SHIRLEY LEINYUY
13. MENGNJO GISELE AFONI
14. ANYE MARION TSI
15. BEKENG ISAAC NKAMBEH
16. NORIS ANUBONDEM ATSINA
17. NGEH CYRIL YUH
18. DONHOUNGO A WOUNTSA AURELLE TILLY
19. NDIFOR IRICH HELMAN NKW ANUI
20. MBIYDZENYUY RONARLD BINTAR
21. KORT LEONARD NFOR
22. ELNA LEINYUY
23. LOKERE THOMAS NANJE
24. AF AH DIANE SUNDE
25. LE KU BERTRAND NEMBO
26. LOWEH JENICE INGRID NYUYKONGHE
27. MULUHYAH KOMFUA ABDEL
28. NDENGE KOHNYUI KAEZIA
29. BONU KAMARICA MIEHMIEH
30. WIRBA ALEXIA BERINYUY
PHYSICS

SN NAME OF CANDIDATE
1. MIKI DINGANA
2. AZENUI ANITA ELIONOR
3. BOGNING DONGMO PRECY
4. FORTACHUI FRANKLINE NYONGBELA
5. LIKENG NGUIMBUS JEAN Y ANNICK
6. TANDJONG WILLIAM JASROEL
7. MADEFO FOTSO FILOMETTE INGRID
8. NKIAMBOUH AMIN OU CHIRAMEH
9. NUMFOR TEZIBUU NFEUBI~ Pa~O
10. NGOUANA ROMEO
11. NANFA NGUEFACK JOEL MANUEL
12. NWATIH FERDINAND TITUOH
13. KEJA ROGER DYLAN FUNG
14. JONG COURAGE TANYI JONG
15. SWI JOVETA AKWANWI OKAWA
16. TOHNAIN CLINTON CHIAMBAH MARK
17. YOSIMBI LOVETT MENGJIO
18. AB ANKE AKUE PERSEY TUMENTA
19. KAIMBI PROMISE NJAKOI
20. NDIFON CLOVIS KEMSHI
21. ASAAH VITALIS ACHUH
22. TARA WO BLESSING MANGI
23. POTENCHI JULIUS PEPA
24. EMILIENNE FENUI FONGONG
25. NIEGEM MBW AME
26. NKAMI MARIUS FONGYUY
27. A WANKEM VICTOR ACHUH
28. YANDE MBOG DURAND
29. T AKOW ESTWIL ARRAH
30. ABONGW A ALFRED ND ET A
The successful candidates on the substantive lists are requested to register witbin 15 days from the date of signature of the present Press Release, and following the modalities which will be indicated to them by the school authorities. After the above deadline, they will be considered as having resigned and will be replaced by candidates on the waiting lists by order ofmerit.
Les candidats définitivement admis ont un délai de 15 jours à compter de la date de signature du présent communiqué pour s'inscrire dans ledit établissement. Passé ce délai, les intéressés sont considérés comme démissionnaires el remplacés par les candidats de la liste d'attente par ordre de mérite.
Anciennes épreuves des Concours et examens de l'écoles du Cameroun
Vous en avez assez de perdre du temps à chercher des ancienne epreuves de concours et des examens officiels. Dans ce site vous trouverez les derniers sujets des examens nationaux (G.C.E, CAP, BEPC, PROBATOIRE, BAC, BTS) et ancienne epreuve de concours d'entrée aux grandes écoles du Cameroun telles que: ENS, EAMAU , ENAM, ENIEG, IRIC, IFORD, IDE, ENSET, ESSEC, IUT, FGI, FASA, FMSB, ESSTIC, EGEM, ENSP, ENSPT en libre accès sur le web… mis à votre disposition par les étudiants en master, en doctorat et des enseignents.
---
---