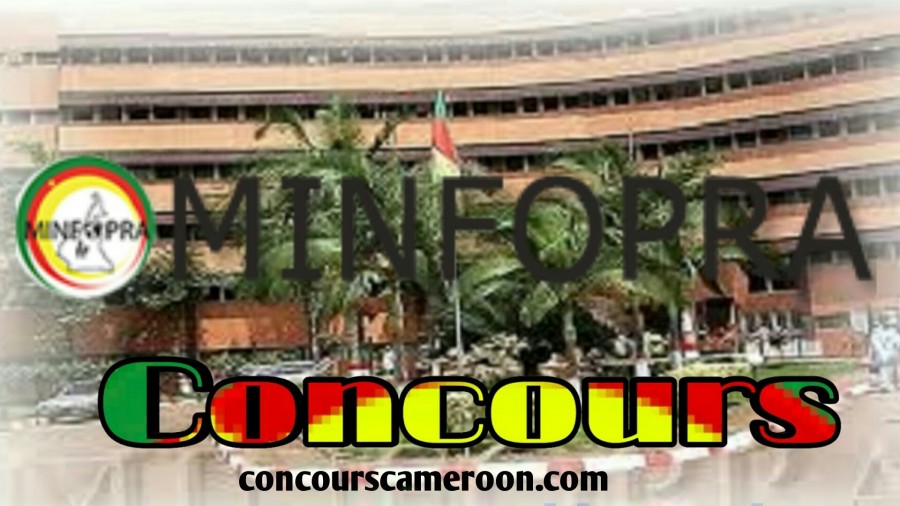 REPUBLIQUE DU CAMEROUN
( REPUBLIC OF CAMEROON)
Paix – Travail- Patrie
(Peace-Work-Fatherland)
Portant publication des résultats définitifs du concours direct du 05 October 2019 pour le recrutement de quarante (40) Agents Techniques des Industries Animales, session 2019 / Publishing the final results of the direct competitive examination of 5 October 2019 ta recruit 40 (forty) Assistant Animal Industries Technicians, for the 2019 session.


Le Ministre de la Fonction Publique et de la Réforme Administrative,
The Minister of the Public Service and Administrative Reform,


ARRETE/HEREBY ORDERS AS FOLLOWS
Article 1.- Sont sous réserve des aptitudes et conditions requises pour l'admission dans la Fonction
Publique de l'Etat, déclarés définitivement admis au concours direct du 05 octobre 2019 pour le
recrutement de quarante (40) Agents Techniques des Industries Animales, session 2019, les candidats
dont les noms suivent, classés par ordre de mérite / The following candidates, placed in order of merit, subject to capacity and other requirements for absorption into the Public Service, have been declared successful in the direct competitive examination of 5 October 2019 to recruit 40 (fort y) Assistant Animal Industries Technicians, for the 2019 session,
Il s'agit de / They are:
Matricule/ Noms et Prénoms/Names
Service No.





1. IVABl77 AKENEBI STELLA UBARUMEI.
2. ATIG142 IBRAHIMA AMADOU
3. ATIF236 NGUETUE WOUAMBO LAURENT BRICE
4. ATIB115 NGANSHU WEFE ABEGAIL
5. ATIA235 EGBE EMMANUEL OJONG
6 ATIA179 LEKU SONITA MAKU
7. ATIB187 AYEAH RENE AYEAH
8. ATIY297 NJOLAK ARCE YORKBEN
9. ATIYl77 BATE SERAH OBEN
10. ATIY141 NSOUANA MOURY EMIL MARCEL
Il. ATIY005 TCH OFFO TIWA JOSELINE
12. ATIY194 NSA MFENDOUN PIERRE
13. ATIY250 TJOMB HIOL AUGUSTIN
14. ATIY232 MELINGUI BLANDINE NADEGE
15. ATIB050 TASEH EVARISTUS
16. ATIY069 KANGA ETOUNDI VENISE PIERRETTE
17. ATIY057 SILEUNOUE NGODEM CELINE SORELLE
18. ATIY192 NNOMO BENGONO DELPHIN EMMANUEL
19. ATIM181 BOUKAR MAHAMAT
20. ATIY119 NTSAMA DORIS FELICITE
21. ATIE147 NYEBEKONO NGOLA CAROLE
22. ATIY071 LEMDJOU BOT AKEM WILFRIED STEPHANE
23. ATIM122 DAAYANG DAVY
24. ATIE222 FOKA MAGOU NADEGE
25. ATIL160 MVEME JEAN-YVES
26. ATIM013 ABDOU AZIZ ABBA
27. ATIN021 MOHAMADOU BAKARY SIOUTO
28. ATIY257 NDJAMEN TCHOUANE MARCEL
29. ATIG153 MASSAOUDI NANAI
30. ATIF200 ELLAH APOH MICAIELNARD
31. ATIY027 NMAI A MOUYAKAN LEO
32. ATIE281 MBOUA WILFRIED
33. ATIY295 DOYOUMP YIAGNIGNI OUDI
34. ATIN291 MOHAMADOU BACHIROU
35. ATIY100 KOLWEALIX
36. ATIN265 MOHAMADOU AWALOU LABARANG
37. ATIM270 DJOULEYHATOU ARFA
38. ATIF149 NGAPOUT IBRAHIM
39. ATID196 MBEDOM FlMBA STEVINE LINDA
40. ATIR008 DANW ANG EMILE
Liste d'attente 1 Waiting list


Matricule/ Noms et Prénoms/Names
Service No.
1. ATIYOn MOFFOR DONALD TAMUMBANG
2. ATID134 SOBE EJOLLE EMELDA
3. ATIF043 NJOYA MONBAGNAM RODRIGUE
4. ATIN290 SEMEI HABA ELIE
5. ATIL276 NGONO MEYE GERTRUDE NELLY
6. ATIY245 BILAI BILAI JEAN PATRICK MARTIAL
7. ATIG256 MOHAMADOU NOUHOU
8. ATIG215 LOUDOUM JEAN
9. ATIE140 MAÏNASONGO CONSTANTIN
10. ATIY199 NDJOULI MBELLA MARIE THERESE
Article 2.- Le présent arrêté sera enregistré et publié partout où besoin sera/This order shall be registered and published wherever necessary.
Anciennes épreuves des Concours et examens de l'écoles du Cameroun
Vous en avez assez de perdre du temps à chercher des ancienne epreuves de concours et des examens officiels. Dans ce site vous trouverez les derniers sujets des examens nationaux (G.C.E, CAP, BEPC, PROBATOIRE, BAC, BTS) et ancienne epreuve de concours d'entrée aux grandes écoles du Cameroun telles que: ENS, EAMAU , ENAM, ENIEG, IRIC, IFORD, IDE, ENSET, ESSEC, IUT, FGI, FASA, FMSB, ESSTIC, EGEM, ENSP, ENSPT en libre accès sur le web… mis à votre disposition par les étudiants en master, en doctorat et des enseignents.
---
---