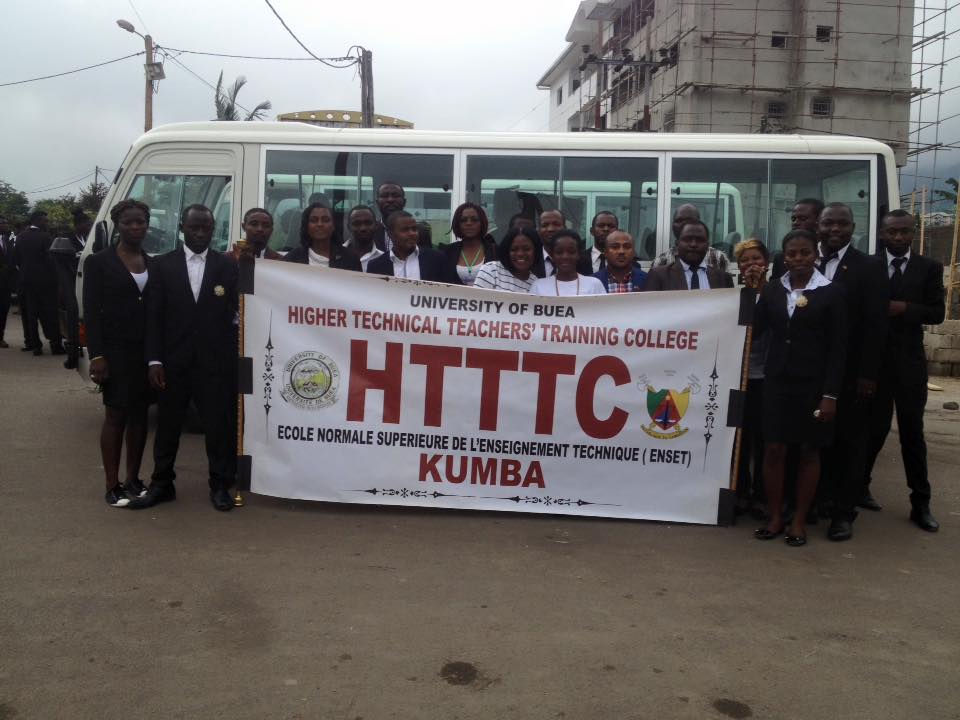 REPUBLIC OF CAMEROON
PEACE-WORK-FATHERLAND.
Final Results ENSET Kumba 2017-2018
MINISTRY OF HIGHER EDUCATION.
PRESS RELEASE NO

17/00112

/MINESUP/SG/DAUQ OF

24 NOV 20
17
To publish the final results of the Competitive Entrance Examination into the

first year of the first cycle

of the Higher Technical Teachers' Training College (

ENSET – HTTTC) Kumba results

, of the University of Buea, for the academic year 2017-2018.
THE MINISTER OF HIGHER EDUCATION ANNOUNCES:
Subject to the verification of their entry qualifications, the following candidates are declared successful in the entrance examination into first year of the first cycle of the Higher Technical Teachers' Training College (

ENSET – HTTTC

) Kumba, University of Buea for the academic year 2017-2018. They are in alphabetical order:
DEPARTEMENT OF ADMINISTRATIVE TECHNIQUES.
OPTION: INFORMATION MANAGEMENT AND COMMUNICATION (IMC)
AYUK PATRICIA ETEM
BERTHA MEKANG EJEDE
ELOMESONE EBUDE
EPOLE NADEGE NGOME
FRI ROSALINE TAKU
METUGE JOAN NTUBE
MOTANGA JOHN MOSONGO
NCHANG NGONGWASHI GHISLAIN
NGOLE KELLY WUNZE
NGWESSE MAJOIE MECHANE
NKUMBE ENJEMA CHRISTEL
NNANGA STELLA AURELIE.
RANDA PEMBE NGUNDUE EFITE
NGAHANE KAMTCHO STANG RICHEL
NJUME LILIAN MESODE
EDIPE BORICE EMADION.
DEPARTEMENT OF CIVIL ENGINEERING AND FORESTRY TECHNIQUES
OPTION: Building Construction
BESONG VECLINE MUYALI

EKOKO LEWIS MUKWELE

EKOMBO EKOMBO IVAN

FOTSO FOKO FRANCLIN

KAMI NGATCHOU URIELLE JORDANNE

KENGNE TCHINDA CHRISTELLE

MUABE FRANKLIN NDIE

MVOMO EBENE VIPPODIE

NGOUO EPATH SEDRICK

NJOUMECHI CALVIN

NJUME DIVINE ELUNG

YOUMBI TAGNE DIANE MICHELE
Waiting List
NKUH CHRISTOPHER NSONG
EWANE GAZENG NGWESE.
OPTION: Woodwork
ASUMTONG NORGE-ROLAND
EFFAMBA STANISLAUS EKPO
EVIS BISONG ENOW
IKPE CAFRIX UKPO
KETUNZE KENEDY TEBA
MBIBATE JACQUELINE MANYI.
MOSONGO GODFRED OBASE
NANFACK LACDO MOMO MERDIES
NFOTA EFON LOTTIN
NKWELLE FRANKLIN NKENG
NTEH GILBERT SUMELONG
TONGWO TERRENCE AMIN.
KOUAMO JOSEPH YANNIK
KENFACK JAURES CARLOS.
DEPARTEMENT OF COMPUTER SCIENCE
OPTION: Industrial Computing
BITOA CLARENCE BABILA
CHABOU KANMOGNE ROGER LOIC
EBONG AJEBE ALBAN DONALDONI
EBOT DIEUDONNE ENOW
INYANG TAMBE MONABAND
KWOLO FRANKLIN KWOLO
MBU COLLINS ABUO
NAMEKONG DJUNE SAH YVANA
NANJE DORINE ULE
NDODE EMMANUEL ESONG
NGONO NGAH BORIS MACAIRE
NTUBE EPEDE NDUMBE.
GBITSAR TEMVOUM RICHARD ALBAN
JOFAK NGUIMATSIA IVAN GABIN
DEPARTEMENT OF COMPUTER SCIENCE.
OPTION: Information Technology.
ARREY ETANG EGBE
BODBE BIBOUM JULY DORIS
EJOLE GLENN AKUME
EWANE ELOUMBAT FABRICE
ISABELLA ESASO LIMUNGA QUAN
MATSINGANG PRECHENS' CHATELLE
MBE ATANGANA GABRIEL
MEDRA OKU MULANGO
NKENGAFAC SONITA JINGWA
ONANA LEON DIDIER
REI ITOE BOKWE.
MAMBAMBI STEPHANIE
MELI TINKIN SONITA.
DEPARTEMENT OF ELECTRICAL AND POWER ENGINEERING.
OPTION: Electronics
AJONG RELINDIS ALEBU
CHEA GERALD NDE TETUBE
ENONGENE GIDEON
EWANG DIVINE NGALLE
PANE FRANKLINE SONGE.
NGUEKEU YIMELE ARMEL EMMANUEL.
OPTION: Electrotechnics
ATABONFACK NERLINE JOELLE
BALI LUDWIG NJONG
DJOUFFO NDEFO NICK BRANDONE
DOUANLA NOEL
EGBE JERRY BAWAK
ETONGWE VIKRAN
FOKAM NGOUONMADJ IE CYRILE PLATINI
FOLETIA KEVIN ASOBA-NTUKEM
FORSAHGONG AJUA CHRISTIAN
FOUODJI ERIC
KEHBUMA BRAIN NOBAJEN
MBONDE SOLÀNGE EMUKE
PATRICK NANJI NGOH.
TSIEDEWO TCHIOKERE JANUS
MILLA NKEM-BA ISIDORE ROUX
SANKEU TSELE JUNIOR THIBAUTH
ASSOUA EPOCK MARCIAL JOEL.
DEPARTMENT OF LAW.
OPTION: Law
AGBE MONICA ABWO EYAMBE.
AKWA LOVELINE AMAH
EFUET EMELDA MEPIAPNDEM
GUIMGO KANA DANIELLE
KETU KENNEDY NEMBO
MUSIMA DANIEL NJIE
NDONE EYENGA GENY-DELLA.
NGEDE VICTORINE NDOBE
NGOME SYLVIE DIONE
NGUATEM COLLETTE ANYIAJIA
NTUNGWE JERRY SUMELONG
OJONG MARILYN AGBOR
OMBE NDZANA SERGE DONNA
PAULINEL ENANGA MBANDA FONGO
TIEOA BIMAI MICHEL FERNANDEZ.
CHUBE EMILIA ELONGE
JOSEPHINE NKOMBU
EMANGAH SHIRLEY EWANG
DEPARTMENT OF MANAGEMENT SCIENCES.
OPTION: Marketing
ABANG AMSTRONO ANDU
AGBOR DAVID LOBE.
ALOBWEDE JERMIMAH MESODE
ALOBWEDE NGOLE RITA
ELEMITAH BLANCH BONGOH-BOSE
MAKESE JOVITA AKAMA
NANCY FUHNWI NSHUKUM
NGOWO LIFANJE MELVIS MBAMI
NGWENE NZUME CONRADE
NKULE METUGE IRENE
ONORI EMILEN MESAME
VICTORIA EBUDE-NGOLE MBOGE
TCHAMBA DANIELLE ORNELLA
NGULLE GRACE DIONE
DEPARTEMNT OF MANAGEMENT SCIENCES.
OPTION: Real Estate Management
ALOBWEDE NTUBE NUELA
EKONGWESE IRENE MBULLE
ESAPA CLAUDIA FESSE
EYA'ANE ETOH SALOMON
KOME JEROME EKANE
MBOGNING TANG SILVESTRE
MEKOLLE AGNES ELOBE
MUCHIGHA NEOLAJOY NANG
MUKWELE AGNES AJ [BE
NEMBU LY CONELEAUS
NGOH VENESSA YOLE
TABI MABELLE MUNDIH.
EWANOGE CLOVIS NDELLE
ETUGE LOIS EPOLE.
DEPARTEMNT OF MECHANICAL ENGINEERING
OPTION: Automobile Mechanics
CARL ASHU EKWEDEBONG
DINACK HURIS GARDEN
EKWA NJEMBA JOSEPH
FONKEING NFONGUEN DANY EDOUARD
KOME NGEH EMILIE NDONGE
NKALLEY REINE MBOLLE
NZOGE EMMANUEL EPIE
TCHAMI TCHOUMENI HONORE
TCHOFFO REMI
TCHOMGUEM NOUDJALE IRENE.
NJILO LINDJO NGOMJON
DONGMO DONFACK FABRICE DAMAS.
OPTION: Mechanical Design
CHOUNA TONGO CAROLE
EBAKO PAULINE MUNGE
EMILIA IKUNDI BANDE
GNINDJE KENGNI ARNOLD WILFRIED
GWAKSE STANLEY WANYU
MELI TALOM MARIE ANGE
MUMOH EUGENE BUINWI
NKENGAFAC SOLANGE MBENOH
NKWELLE DIEUNEDOR NTONGWE
WOIGO MEDIOUNE KESNEL.
TAFFE FRANK LOIC
NGOUONPONG WAFO VIANNEY BALIQUE.
DEPARTEMNT OF SOCIAL ECONOMY AND FAMILY MANAGEMENT.
OPTION: Fashion Clothing and Textiles
ALOBWEDE SOLANGE MPONGE
EBUDE GWEN NGWANE.
EKWEDE GEORGETTE LOMBE
EPIE PRUDENCIA NZELLE.
MBINE NKWELLE ELISE
MEFFO DIFFO GUILAINE
MILDRED TANGMOH TEGOMOH.
NCHANG VIVIAN AYANCHO
NJIKI NTUBE GUYLENE
PEWE DIBANG HODAVIA
TAFANG MOSES ESAPE
TIOMBOU TCHINDA JOCELINE LINDA.
ASHU NDIE ALICE
TCHOFFO KUETE CHARLINE FLORE.
OPTION: Home Economics
DIKOTE ROSE ETE
ISEH ETEH MAGDALINE
KANA TSOBGNY KYNTIA FRANCOISE
LEPASHIA MANY] SONITA
MATEING EPAH ERIKA CINDRY
MBU CATHERINE MOSUME
MEJAME ENDURANCE MEZINZE
MEKOLLE SANDRA MUKE
NAFAK TEDONGMO VERDIANE
NDJUIKEM MOUAFO SYLVIE BEATRICE
NGONO ALIXE
NYAH EUPHRESIA AMUNG.
NDONG MARBEL FUAM
TAMBE-NCHINGHE JOSEPHINE
DEPARTMENT OF TOURISM & HOSPITALITY MANAGEMENT.
OPTION: Hotel Management
AKAT SUZIBEL NDIP
AKO MIRIAN MANYOR
BECKY DIBO MUSINGA
DIONE NJUME
EDIIMBI ELLA ALICE LILI SANDRINE
ITANKI CHANTAL ENONGUE
MABOU TETSAP SANDRINE
MOUMENI ZOOKO EUGENIE
NAKELI MAKANE GRACE
NGUEFACK BASSO ORTHIDE EERLIANE
NKAFU JOCELYN TALEH
NONGNI DIEUMETIG RUPHINE LAURE
EBONG DORRIAN MECHANE
NGANKAM DARICE YANGMENI
DEPARTMENT OF TOURISM & HOSPITALITY MANAGEMENT.
OPTION: Tourism
AKPO EBUE YOH
BAH STELLA AZWAY
EKANE EPOLE SAMANTA
ETOUBE ELOUME CALVIN
FAITH AHONE NJENGE
KERE KONGWE LAURA
MBOZO'O CHARLES OLIVIER
MOTIA ALLOYSIUS ETAPO-ESAY
NGOH PRICILIA ELOH
NZALIE ISAAC EYONG
OKOUMOU AGNES
PAULINE NDOBE KOLLE.
WAITING LIST
AHGNE SHARON AKISSEH NNOH
ITOR MEKA CICIL
They are requested to report to the Records Office of the Higher Technical Teacher Training College (HTTTC) from the date of signature of this Press Release in order to perform the registration formalities. They should bring along with them, the originals of their certificates
Anciennes épreuves des Concours et examens de l'écoles du Cameroun
Vous en avez assez de perdre du temps à chercher des ancienne epreuves de concours et des examens officiels. Dans ce site vous trouverez les derniers sujets des examens nationaux (G.C.E, CAP, BEPC, PROBATOIRE, BAC, BTS) et ancienne epreuve de concours d'entrée aux grandes écoles du Cameroun telles que: ENS, EAMAU , ENAM, ENIEG, IRIC, IFORD, IDE, ENSET, ESSEC, IUT, FGI, FASA, FMSB, ESSTIC, EGEM, ENSP, ENSPT en libre accès sur le web… mis à votre disposition par les étudiants en master, en doctorat et des enseignents.
---
---