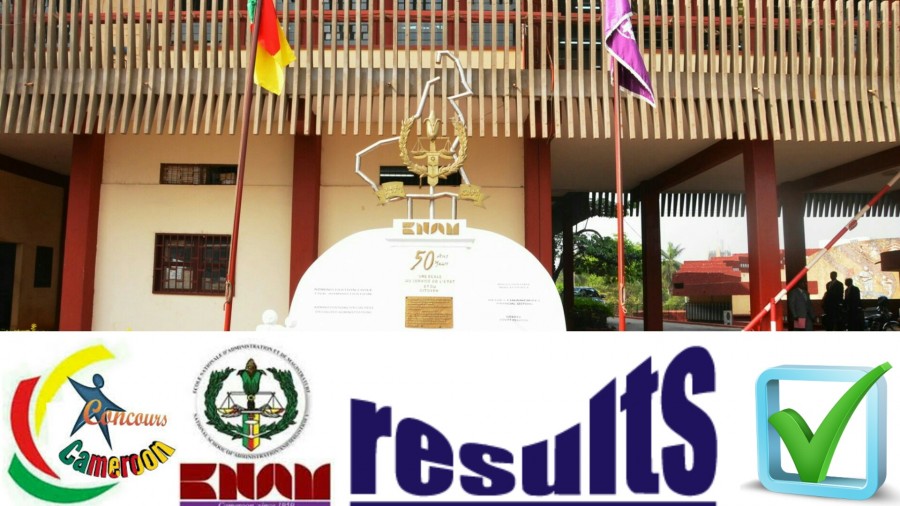 REPUBLIQUE DU CAMEROUN
(REPUBLIC OF CAMEROON)
Paix – Travail – Patrie
(Peace – Work – Fatherland)
MINISTERE DE LA FONCTION PUBLIQUE ET DE LA REFORME ADMINISTRATIVE
(MINISTRY OF THE PUBLIC SERVICE ND ADMINISTRATIVE REFORM)


HEREBY ORDERS AS FOLLOWS:
Article 1: The following candidates whose names appear in order of merit, upon signing of this
decree, are admitted into Cycle A' of the Magistracy and Court Registry Division for
the 2019/2020 academic year to recruit seventy-five (75) Pupil Magistrates:
(Sont pour compter de la date de signature du présent arrêté, admis au
cycle «A» de la Division de la Magistrature et des Greffes, au titre de l'année
académique 2019/2020, pour le recrutement de soixante-quinze (75) Auditeurs de
Justice, les candidats classés par ordre de mérite dont les – noms suivent:)
SECTION JUDICIAIRE/ JUDICIAL SECTION (35 places/ seats)
1 MBOULE EKANE CHRISTEL NADEGE
2 ZEH NDJANG JEAN PHILIPPE
3 NGOLE MPONGE ALINE GERALDINE
4 T JALLE SUZANNE ESTELLE PAMELA
5 MOMO ZAMBOU STEPHANIE PAULE
6 ABANDA ABANDA JEAN JUNIOR
7 MATIP MATIP MARIE LOUISE IRINA
8 NYAMNDI JEFFERSON DOBGIMA NWANA
9 NJOCK NKENG SAMUEL JOHNSON
10 ZE FOUMAN HUBERT ALVIN
11 AMANG ARROYE JUNIOR
13 BIATCHA-DINGOM STEPHANE JUNIOR
15 MVOUSSI MBE ARNAU CARINTON
16 MBIAKOP MBAKOP LOIC STEPHANE
17 NYAMBOMBÉ MENGANG GRÂCE
18 DONGO TIOTSIA JAURÈS
19 BIYA EMA'A PAUL
20 ABOUI NKOULOU MICHEL DIEUDONNÉ
21 AHMADOU FAYE
22 ENAMA MENGUE JEAN -YVES
23 MATAKON AHMED SEIDI WILFRED
24 ABANA OTABELA CHRISTIAN DOMINIQUE
25 SEINI BADJO HAMADOU
26 ABOUBAKAR YOUNOUSSA
27 DANG ME MIASSE RAISSA
28 MVONGUELE NYA'A BENJAMIN NICANOR
29 BELA LOUBA INGRID ANDREY
30 ACHUA SINGOUE VERONIQUE
31 BENGONO LOIC KEVIN
32 LlHLE DAVID SADJO
33 ZOUBEIROU MOHAMADOU
34 ANGAYE MANGA JEAN SAMUÈL –
35 SALI HOU ALKALE .
Liste d'attente! Waiting list:
1- ATANGANA BOMBA THEOPHILE ARNAUD
2- ACHUA SINGOUE VERONIQUE
3- MBOULE EKANE CHRISTEL NADEGE
4- NGUELE ROSTAND FRANCKY
5- BELLA ESSAMA JACQUES BLAISE
CANDIDATS MINDEF
N° NOM ET PRENOM
1 ASSOUMOU MENGUE DAVY
2 AMOAH EKANI FRANK ARMAND
SECTION ADMINISTRATIVE/ ADMINISTRATIVE SECTION (20 places/ seats)
1 EKELLE NGONDI MICHARD BERIOT
2 BENYIMBE DIPANDA JOSEPH
3 LEKEDJI TSAFAC NIKITA FAYELLE
4 TCHIENGA YIMGOUA SIMONE COLETTE
5 YOUMBI WENGUELA HERMANN
6 ALI-ABAKOURA
7 KENIMBENE RACHEL
8 OYONO NKA PIERRE-MERLIN
9 NOMO NGA NDJANA FELIX DE VALOIS
10 AFANA THOMAS CASSIDY
11 TUMENTA FORSTABEL NTABA
12 AKONO ATYI AUDREZ PAULINE
13 RONALD NOEM MESSENGUE AVOM
14 ATANGA OYANA CORETTA CARMEN
15 INTELE SAKER ROMARIE
16 MVELE BEKOLO ROMEO
17 ABDOUL AZIZI AMADOU
18 AMINOU ALHADJI HAMADOU
19 NTSA'A DIDIER MAGLOIRE
20 ASSAMAOU OUMAROU
Liste d'attentel Waiting list:
1- ESSOMBA MESSI ARMAND THIERRY
2- MBOLONG CHRISTELLE NATACHA
3- YOUMBI WENGUELA HERMANN
4- BIDZOGO NDZOUBA JEANNE LAURELLE
5- ASSENGUE LINDA


SECTION DES COMPTES/AUDIT SECTION (20 places/seats)
N° NOM ET PRENOM
1 MOU ELLE SOPPO ELIOT EVANS
2 RABIATOU MADINA
3 MANDA NKODO RODARIE BORIS
4 LlTASSOU BORTOUANG ALBERT
5. KOME IRENE MECHANE IYA-BIE
6. OTEPOSSACK ALIX
7. BEGNE MENGUE DAVY SIDOINE
8. ELEMBE AKOUA BERNARD
9 EFANDENE ATEBA GASTON CHARLES
10. BELKE NDONEMO CHRISTIAN
11 TSOPMO DONKENG LEILA LARISSA
12 RAHIMATOU PANTAMI
13 MANGA ENGELBERT OLIVIER
14 ABENG ABAH MARIE NADINE GAELLE
15 MENGUE OYONO MARIUS TRESOR
16 FORGHAB TOM-BLAKE ASAAH
17 YOUBI UNEL
18 MBUAGBOR CAROLINE TAKEM
19 HAMO PATRICE
20 NDJIKI FRANCK JONATHAN
Liste d'attente/ Waiting list:


1- MBA MENYOMO MARL YSE
2- BADJECK MVONDO ROBERTE LAUREINE
3- ALiM NASSOUROU
4- OLiNGA MOABOULOU CHARLIE OSWALD
, .
Article 2: Les intéressés, bénéficient de l'indice solde 335 de la Fonction
Publique/Admitted pupils shall be placed on sa/ary index 335 Of the Public Service
Article 3: Le présent arrêté sera enregistré et communiqué partout où besoin
sera/This order shall be registered and published where necessary.
Anciennes épreuves des Concours et examens de l'écoles du Cameroun
Vous en avez assez de perdre du temps à chercher des ancienne epreuves de concours et des examens officiels. Dans ce site vous trouverez les derniers sujets des examens nationaux (G.C.E, CAP, BEPC, PROBATOIRE, BAC, BTS) et ancienne epreuve de concours d'entrée aux grandes écoles du Cameroun telles que: ENS, EAMAU , ENAM, ENIEG, IRIC, IFORD, IDE, ENSET, ESSEC, IUT, FGI, FASA, FMSB, ESSTIC, EGEM, ENSP, ENSPT en libre accès sur le web… mis à votre disposition par les étudiants en master, en doctorat et des enseignents.
---
---