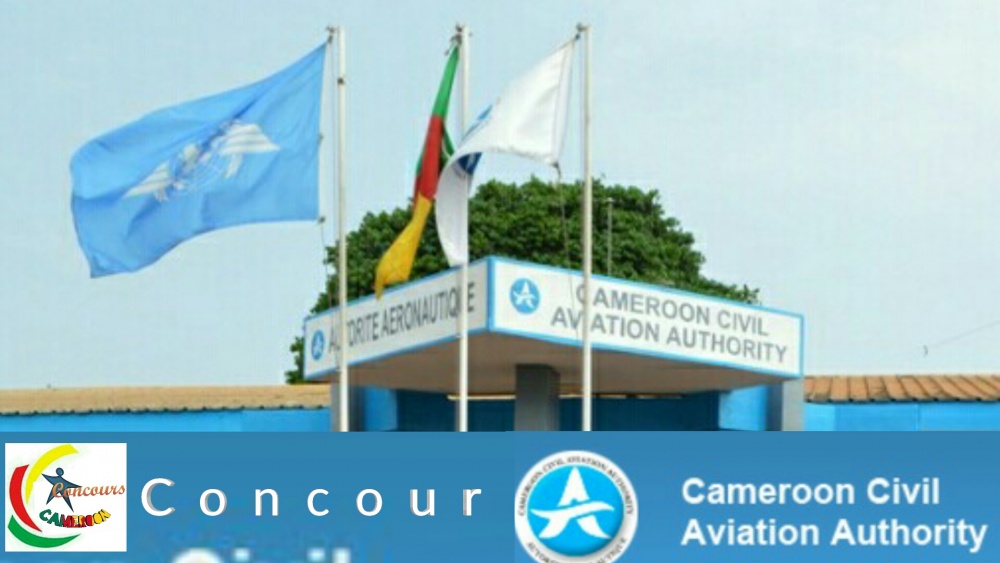 REPUBLIC OF CAMEROON
Peace – Work – Fatherland
No.00002 /AR/CCAA/DG
Yaoundde 24 JAN 2019.
The Director General of the Cameroon Civil Aviation Authority (CCAA), a public administrative entity in charge of Administering civil aviation in Cameroon, created by law n°98/023 of 24th December 1998, repealed by law n°2013/010 Of 24 / July 2013, with its headquarters at the Military Air Base 101, informs the general public that a recruitment test will be organized in Yaounde and Douala following the calendar beneath for the selection of one hundred and seventy-three (173) airport security agents who will work in the country's international airports.
These airport security agents as per the provisions of the law governing civil aviation in Cameroon cited above and those of the National Civil Aviation security Program, will be required to implement Civil aviation security measures in Cameroon's international airports.
a) ELIGIBILITY CRITERIA
Applicants must be:
Cameroonians aged between twenty-one (21) and thirty-five (35) years at most by the 31st of December 2019.H
ilingual: have a mastery of spoken and written English and French languages.P
hysically fit and ready to work during the day and at night.A
ble to Communicate and have team spirit.F
ree from any criminal Prosecution and should not have been convicted/sentenced to imprisonment.
N/B: Applicants who have knowledge in civil aviation in general and/or professional experience in airport security in particular, have an added advantage.
b) DOCUMENTS REQUIRED
Candidates' application files should comprise the following:
A stamped hand-written application addressed to the Director General of the Cameroon Civil Aviation Authority (CCAA).A
motivation/cover letter.A
cerlified Copy of birth certificate.A
Certified Copy of National Identity Card.A
curriculum vitae.A
medical certificate.A
certified copy of the diploma required.A
n attestation of presentation of the original copy of the diploma tendered.A
certificate of non-conviction issued within three months to the date of submission; and, T
wo (02) passport size photographs.
b) SELECTION PROCEDURE
First phase: Review of applications and shortlisting of candidates who will compete;
Second phase: General medical check-up (Applicants shortlisted will have to pay a flat rate of five thousand (5.000) Francs CFA).
Third phase: Physical fitness test.
Fourth phase: Written test.
Fifth phase: Orals (English and French languages).
Sixth phase: Thorough medical check-up (Applicants shortlisted for this phase will have to pay a flat rate of twenty thousand (20.000) Francs CFA).
c) EXAMINATION CALENDAR
Examination centers and dates.
YAOUNDE : 04 – 09 March 2019.
DOUALA : 11 – 16 March 2019.
d) DEADLINE FOR THE DEPOSIT OF APPLICATIONS
Application files should be deposited latest
13 February 2019 at 4 pm
. at the headquarters of the Cameroon Civil Aviation Authority (CCAA), (secretariat of the Department of General Administration) or at the various Airport Command Units situated within the airports in the Regions.
NB: Applications that do not conform to the present recruitment notice or that are deposited beyond the stipulated deadline shall not be reviewed. Only shortlisted applicants whose names will be published will be eligible to take part in the selection tests.
Anciennes épreuves des Concours et examens de l'écoles du Cameroun
Vous en avez assez de perdre du temps à chercher des ancienne epreuves de concours et des examens officiels. Dans ce site vous trouverez les derniers sujets des examens nationaux (G.C.E, CAP, BEPC, PROBATOIRE, BAC, BTS) et ancienne epreuve de concours d'entrée aux grandes écoles du Cameroun telles que: ENS, EAMAU , ENAM, ENIEG, IRIC, IFORD, IDE, ENSET, ESSEC, IUT, FGI, FASA, FMSB, ESSTIC, EGEM, ENSP, ENSPT en libre accès sur le web… mis à votre disposition par les étudiants en master, en doctorat et des enseignents.
---
---